App Backup & Share Pro v10.0.1 [Paid]
Requirements: 4.0.3+
Overview: All the features you'll ever need in an application Backup/Share/Management software, with powerful and reliable performance that you can not compromise (no root required)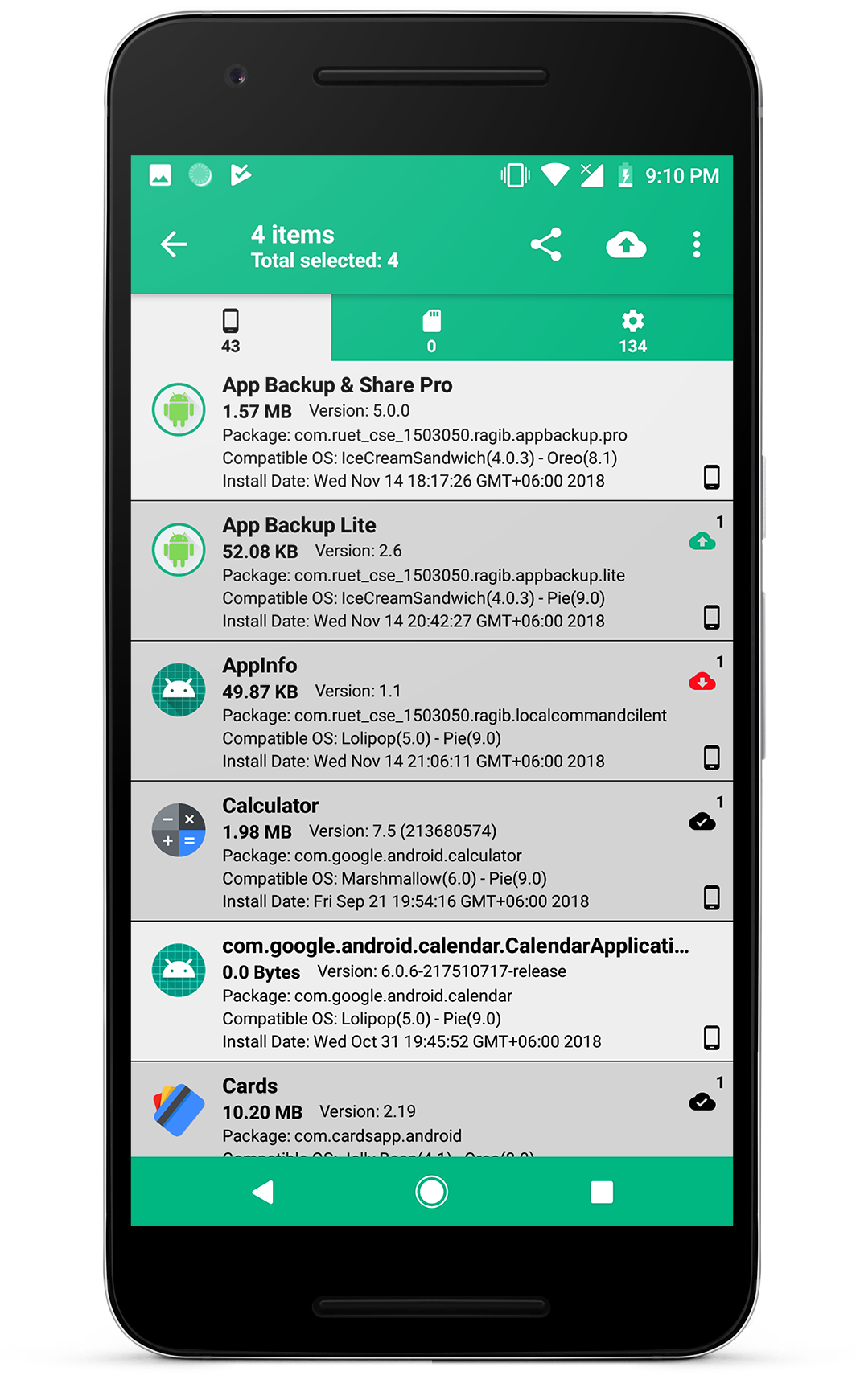 If you are not satisfied in any way, or it is not functioning as you expected, you can ask for full refund, anytime. We'll be glad to hear from you. Also, you can request any feature or help. For any purpose, Email at [email protected]
See the full description to know all the exiting features
Features:
⬤ Backup and share any System/User/SD Card App (single/multiple at the same time) that can be installed later
⬤ Backup your apps wherever YOU want – Internal Storage/REMOVABLE SD Card/any Cloud Storage. You can keep as many versions of an app as you like, there are no constraints.
⬤ There is a dedicated file browser to set the local backup location. So, no need to type the folder path explicitly like other apps force you to do, just browse and select your desired folder
⬤ Send apps using Facebook Messenger, WhatsApp or any app that supports file sharing
⬤ Local and Cloud backup options. Cloud Backup supports (if installed) :
● Google Drive
● Dropbox
● OneDrive
● and All the others(this one is available with 'share' option)
⬤ Separate dedicated tabs for System, User and SD Card apps which makes it very much organized and easy for you to find an app
⬤ Both, Backup(Cloud and Local) and Share feature offers backup/share of application files with the same name as on the phone's launcher. So you don't have to rename each file before backup/share like other apps force you to do (most of the apps can only share .apk files with the name "base.apk")
⬤ Want to forget about backing up important apps? App Backup & Share Pro automatically backs up your applications(Selected Ones/All/None, depends on the setting you set) on local storage. So you can now forget everything and let App Backup & Share Pro do your job.
⬤ Shows all the important information about each application and gives access to each and every application settings, whether it is a system/User/SD card app – all in one place, with just a few clicks.
⬤ Each row of application list contains useful information like the package name, version,full date and time of installation,and most importantly, COMPATIBLE ANDROID VERSION range associated with each app, so that you know in advance that the app you are sharing can be installed on the target device.
⬤ Helpful indicator for showing available backups on the device, so that you don't have to remember which app is backed up and which is not
⬤ Shows install location of each app with icon which is pretty much helpful while searching for apps
⬤ Easy search option that can search through all the apps – the system apps,the user apps and the SD card apps, all in one place, meaning you do not have to switch tabs before searching
⬤ Easily update and rate any apps available on google play. It directs you to the app in google play store
⬤ Directly uninstall apps without going to app settings (some apps may not be uninstalled, particularly the system apps)
⬤ Clean and Beautiful look, fast and responsive. no ads…guaranteed! , does what it says – nothing more, nothing less
Note that some applications may not install on some devices and some devices will not be able to run some applications as expected(or will not be able to run them at all). System apps are the main example of this. Some system apps are particularly designed for your device and will not be installed on other devices. But what ever the reason is, this may happen because of the limitations of your phone's Operating System(OS) and hardware, App Backup Pro has nothing to do with it.
Note that, some applications may install on lower or higher android versions than displayed,but those app will not be fully compatible on those android versions, or some of the features of the apps will not be available or apps may misbehave.
What's New:
• Added complete Data Backup feature (Root required)
– Can backup internal and external application data (data, settings, databases, and everything)
– Can backup external obb and media directories
– Portable data backups – restore on any supported device
• Added data sharing feature (Root required)
– Share application data with everything your device supports
• Lots of major (and some minor) performance & design improvements and fixes.
This app has no advertisements
More Info:
[link]https://play.google.com/store/apps/deta … backup.pro[/link]
Download Instructions:
Hidden Content
This board requires you to be registered and logged-in to view hidden content.
Statistics: Posted by Balatan — Mon May 06, 2020 9:56 am
---