by David Neumann, iOS News
App News

[hr]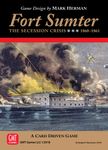 Fort Sumter surrendering to mobile, Steam later today

We mentioned that Fort Sumter: The Secession Crisis, 1860-61 was coming to digital less than two months ago. Looks like Playdek's been busy, as we're expecting it to land for mobile and Steam later today.
If you're not aware, Fort Sumter is a card driven area-control/hand management game from the brilliant mind of appmarsh Herman and GMT Games. It abstractly details the events of 1960 that led to the firing on Fort Sumter and the start of the American Civil War. One player plays as a secessionist while the other represents the Union and you play cards that allow you to place cubes in different areas/ideologies with the intent of gaining the upper hand when all hell eventually breaks loose.
Games only last about 20-30 mins, making this a perfect companion to have on whatever device you carry around in your pocket.
We didn't receive review codes for this one (they're coming at launch time) so I don't know if/when Brad or I will get a 'first impressions' post up. I'm not even sure if Brad still reads the blog, actually. Why would he when there's all that money to be had being a Wil Wheaton look alike?
No links yet for the mobile versions, but you can find the Steam version here when it launches:
– Fort Sumter: The Secession Crisis for PC/Mac via Steam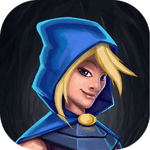 One Deck Dungeon coming to phones this Thursday

One of the best–if not THE best–digital board game ports of 2020 was One Deck Dungeon from Handelabra and Asmadi. This little roguelike captured much of my screen time last year with its quick gameplay, massive amounts of dice-chucking, and character building. Add in the One Deck Dungeon: Forest of Shadows and the replayability is through the roof as well.
One thing it didn't do was play anywhere other than my iPad or laptop. This Thursday, that all changes. It's coming to your phone and in portrait mode, no less!
The game will be Universal meaning that if you already bought it for your tablet, no need to repurchase it for your phone. If you haven't picked it up yet, Thursday will be the day to do it. Not only is Handelabra having a sale that will run from Thursday until next Wednesday, the 29th, they're also giving $1 of every purchase made during the sale to Code Liberation, which is a mighty fine thing for them to do.
Apart from the charity, both the base game and Forest of Shadows expansion will be on sale. Pick it up, you won't be sorry.
(prices below do not reflect the sale price that will begin on Thursday)

– One Deck Dungeon for iOS, $10

– One Deck Dungeon for Android, $10

– One Deck Dungeon for PC/Mac/Linux via Steam, $10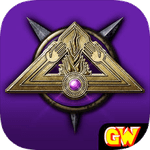 Nomad dips into the Talisman well again with solitaire Talisman: Origins

Can you ever have enough Talisman in your life? If you're Asmodee Digital or Nomad Games Ltd (II) the answer is clearly "no". Case in point, last week we not only got a new expansion for the venerable Talisman: Digital Edition (more on that in a few paragraphs), but we also received a brand new game entirely. It's called Talisman: Origins and it's a solo game that walks you through the history of the world of Talisman.
If you're thinking you've heard of something like this before, you're right! Way back when digital board games were unheard of, Nomad pushed out a little puzzler called Talisman Prologue which was a solo game that had you controlling different characters from Talisman and finishing quests. Talisman: Origins has the same description, however this time there's a method to the madness.
Each questline in Talisman: Origins follows some major event in the history of the world of Talisman such as the forging of the Crown of Command or…well, that's the only major historical event I can think of. Nomad, luckily, thought of a bunch more. In fact, there are 4 different campaigns covering 20 different quests which cover 100 challenges. That's a lot of dice rolling!
Experience the origins of historic events in the world of Talisman, such as the creation of the Crown of Command, the return of the dragons, the Ifrit war and the rise of the guilds.
Take control of 12 Talisman characters, including the new Great Wizard exclusive to this game, as they battle to save the land from dragon invasions, double-crossing devils, mysterious guilds and more. OR, play as the bad guy! Bring on the dragon invasion! Destroy sacred chapels! Protect the dungeon from heroic invaders!
● Exciting stories set in the Talisman world

● 20 quests spread across 4 campaigns covering many dramatic events

● 100 Challenges to be completed

● Detailed interactive tutorial

● Achievements track your progress through the stories
If you're looking for a quick, puzzly time waster with a bit of board game flair and more than a little RNG goodness, then Talisman: Origins might be right up your alley. Want to give it a go? Links below.
As I mentioned above, Talisman: Origins isn't the only Talisman news this week. Nomad and Asmodee also released another expansion for Talisman: Digital Edition. This time it's The Ancient Beasts which adds a bunch of new cards and more to your Talisman game.
In The Ancient Beasts, the sacred soil is now scorched and destroyed by wizards and witches while mysterious new forces have emerged in the form of long-dormant behemoths and titans of Talisman, finally awakening to a new quest for the Crown.
The Ancient Beasts expansion includes:
– 2 Characters – Specialist and Trophy Hunter

– 15 Beast Cards

– 13 Terrain Cards

– 27 Beast Reward Cards

– 2 Alternative Endings

– 6 Tokens
The Ancient Beast expansion is available on whatever platform you're currently playing Talisman on.
– Talisman: Origins for iOS Universal, $4

– Talisman: Origins for Android, $3.50

– Talisman: Origins for PC/Mac via Steam, $6.30 (on sale)

– Talisman: Digital Edition for iOS Universal, $4

– Talisman: Digital Edition for Android, $3.50

– Talisman: Digital Edition for PC/Mac via Steam, $7