Animated Landscape Weather Live Wallpaper v1.23 [Patched]
Requirements: 4.0.3+
Overview: Animated weather live wallpaper, drawn in the style of minimalism, which will show the weather and seasons on your device constantly.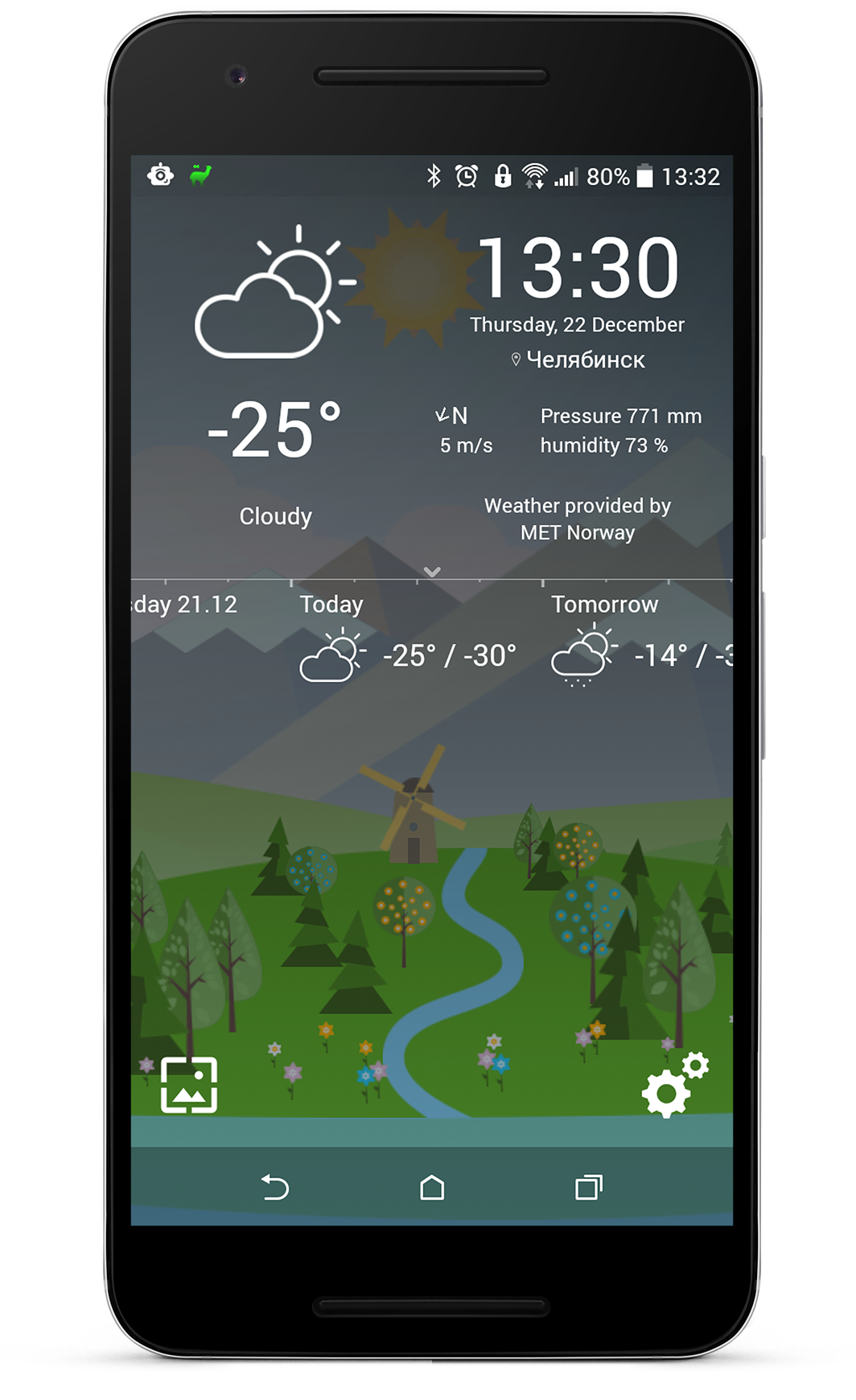 Can be used as a separate application for viewing the weather or set as a live wallpaper on the desktop.
Animated Landscape is an application that displays all the weather conditions: rain and snow, sunrises and sunsets, cloudiness and much more.
— Accurate live weather forecast around the world, in every city you need.
— Full conformity of the seasons, if you look out of your window, you will see the same weather as shown on your screen.
— The Animated Landscape is changing according to weather in your location. It displays:
• Times of the day, sunrises and sunsets, moon phases at night;
• Snow, rain, sight and strength of precipitation and wind, overcast and clouds;
• There is a river in the middle of the screen, which covers with ice and snow in winter;
• Depends on the season, trees are also changing: flowers blossom on them in spring, leaves are turning green in summer and gold in autumn, the snow is covering them in winter;
• The flowers in the grass are blooming in spring;
• Windmills are constantly working, which is interesting to watch.
— In order to reduce battery drain we added some special settings: brightness, weather notifications, the blackout of the background of the widgets, the number of additional particles (raindrops, flower petals and others), the number of frames per second, the volume and deactivation of sounds – everything can be adjusted.
— 3 sources of weather forecast are available for obtaining weather data. You can choose and use the one that shows the most accurate forecast for your location.
— It is very simple to launch the app by a shortcut or by double tap on the wallpaper. And in addition, you can set the weather widget to quickly access the application with a single click on it.
— The 3D parallax effect allows the perspective to automatically change, when you tilt the device.
It is supported on phones and tablets in both portrait and landscape modes. Tested on Samsung Galaxy S7, S6, S5, Note 7 8, Sony Xperia Z2, M4 Aqua, C5 Ultra, Z3, Z5, LGE, Asus ZenFone, Xiaomi Redmi 3, Note 4, 4A, 4X.
WHAT'S NEW
— Widgets and notifications bugs are fixed
— New translations to three languages: Polish, Czech and French
This app has no advertisements
More Info:
CODE:
https://play.google.com/store/apps/details?id=ru.bastion7.weatherlwp.pro
Download Instructions:
Hidden Content
This board requires you to be registered and logged-in to view hidden content.
Statistics: Posted by Balatan — Tue Oct 09, 2020 12:28 pm
---