PDF converter pro & PDF editor – pdf merge v6.3 [Paid]
Requirements: 4.1+
Overview: PDF Converter & PDF Editor is very comprehensive tool to perform various operation on pdf files.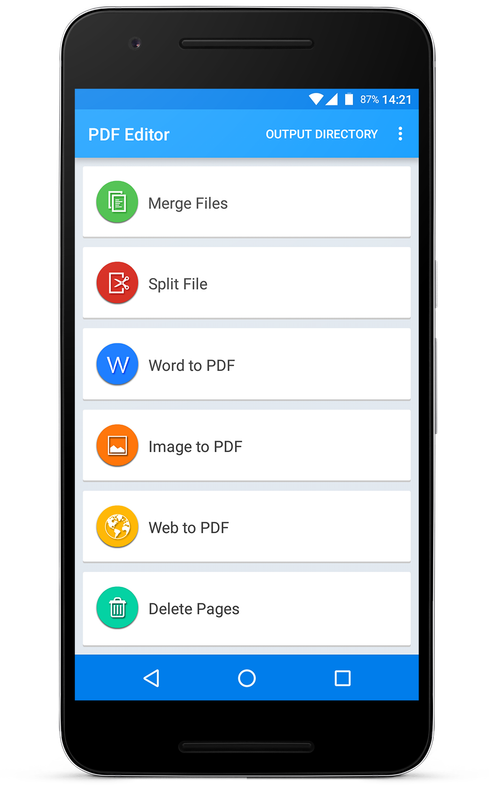 – Convert Word to PDF file
Now you can convert doc to pdf file.
– Convert Image to PDF file
Convert your jpg to PDF. Click an image from camera or choose one from gallery and convert it.
– Website to PDF
Convert a html webpage into PDF and save all the news articles / reports for later reading.
– Merge pdf
Combine pdf documents into a single one.
– Split document
Have a file that is too big ? Now you can split it into smaller units.
– Add Password
Encrypt your file by adding password protection
– Remove Password
Have a PDF file you open often, and have to enter password every time? Now you can use this feature to remove password from the file.
– Delete Pages
Remove selected pages from the document
– Extract Pages
Extract our relevant pages from the file
– Add Watermark
Add watermark text to your file.
– Rotate Pages
Rotate selected pages of a file
– Compress
Reduce size of the document by using this feature.
WHAT'S NEW
– We now support comma separated list of page numbers and page ranges to delete / extract / rotate. So you can perform the operation at random pages in one go.
– Fixing a crash reported by user in watermark workflow.
This app has no advertisements
More Info:
CODE:
https://play.google.com/store/apps/details?id=com.pdfbuddies.pdfutilspro
Download Instructions:
Hidden Content
This board requires you to be registered and logged-in to view hidden content.
Statistics: Posted by Balatan — Wed Feb 13, 2020 12:03 pm
---